CASE 1650K LGP + Pług składany do transportu !! bulldozer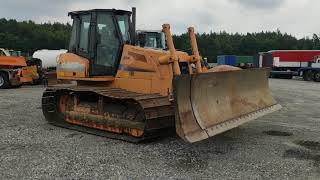 1/34
Model
1650K LGP + Pług składany do transportu !!
Location
Poland
Nowa Huta
Remote inspection
Request an independent technical inspection
Need delivery?
Calculate the cost of delivery
- Spych CASE 1650K
Przepracowane tylko 7195tys/mth
Pług 6-pozycyjny + składany do transportu
Cała szerkość pługa 390cm po złożeniu prawej strony 340cm
Gąsienice 80cm
Szerokość Transportowa 300cm
Moc silnika : 140km
Zakupiona i używana od 2008r
Podwozie 70% do pracy !!!
W pełni sprawny
gotowy do Pracy bez wkładu finansowego
Link do filmu:
show contacts
WSZELKIE DODATKOWE INFORMACJE UZYSKACIE PAŃSTWO POD NR TELEFONU
show contacts
tel/ WhatsApp
show contacts
tel/ WhatsApp
Biuro -
show contacts
Biuro(małpa)duetduda.pl
Pełna oferta na : duetduda.pl
MOŻLIWOŚĆ SFINANSOWANIA POJAZDU
Za pomocą leasingu lub kredytu
Szybka decyzja leasingowa / kredytowa
Indywidualne podejście do każdego klienta !!!
Posiadamy autoryzacje w największych Firmach leasingowych
W związku z czym nie są wymagane wyceny rzeczoznawcy
A cały proces kredytu lub leasingu przebiega dużo szybciej
POJAZDY PRZEZ NAS OFEROWANE ZNAJDUJĄ SIĘ NA TERENIE NASZEJ FIRMY: DUETDUDA.PL
Zapraszamy i prosimy przed przybyciem o potwierdzenie aktualności oferty
Poniedziałek - Piątek w godz. 8.00 - 17.00
Sobota w godz. 8.00 - 15.00
Inne godziny oraz Niedziela po wcześniejszym umówieniu telefonicznym
Przedstawione dane maja charakter informacyjny
nie stanowią oferty w rozumieniu artykułu 66 k.c
Sprzedający nie odpowiada za ewentualne błędy lub nieaktualności ogłoszenia.
Dodatkowe informacje: kraj pochodzenia: Polska
status sprowadzonego: dosprowadzenia
napęd: gasienice
masa eksploatacyjna: 16500
moc użytkowa: 140
wysięgnik: one_piece
lemiesz: six_position
Numer oferty: AKL63PYH
Faktura VAT
Zarejestrowany w Polsce
Pierwszy właściciel
Important
This offer is for guidance only. Please request more precise information from the seller.
Safety tips
Selling machinery or vehicles?
You can do it with us!