Zoomlion 63m X-6RZ 2013 on chassis SCANIA G470CB 10X4 concrete pump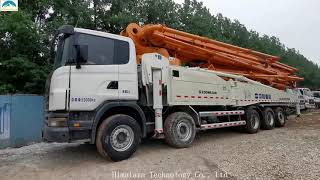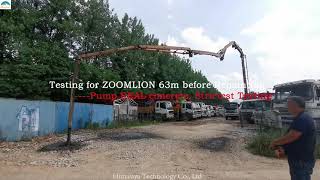 1/32
Year of manufacture
04/2013
First registration
2013-06-28
Location
China
Changsha Shi
Description
Concrete pump brand
Zoomlion
Feeding height of concrete
62.6 m
Number of concrete pump sections
6
Type of the cabin
Commander XT
Overall dimensions
15.84 m × 2.5 m × 4 m
Cabin
Cruise control (tempomat)
Electrically operated mirrors
We,Himalaya Technology Co.,ltd, supply all brands of new and used concrete pumps in China, such as SANY, ZOOMLION, Schwing, and Putzmeister from 37m-70m, with good working condition.

1. Professional and honest working style(never cheat you, show you all original data)
2. Sales+ technical support+spare parts+ International transportation+All documents+customer visiting service.
3. Equipment tes+Equipment Cleaning+Chassis and upper-struction repairing+ equipment repainting (under order)+ total test.
4. Customed products(color, change to right-hand driver, replace engine with higher emission etc.) and remanufactured products.

##This is a remanufactured product(ZOOMLION with chassis Scania 10*4, 63m,2013year), lots of parts are replaced. We deliver the used equipment in good condition,all functions work very well##

A few companies write false information about the used equipment on the website to increase the attractiveness, for example: production year, mileage, working hours, decorating the equipment condition.

Honesty is the LOWEST requirement of our company and our people.
We work only with serious and real customers. Contact us for more details.
نحن ، شركة Himalaya Technology Co. ، ltd ، نوفر جميع العلامات التجارية لمضخات الخرسانة الجديدة والمستعملة في الصين ، مثل SANY و ZOOMLION و Schwing و Putzmeister من 37 م إلى 70 م ، في حالة عمل جيدة.

1. أسلوب عمل احترافي وصادق (لا تخدعك أبدًا ، تظهر لك جميع البيانات الأصلية)
2. المبيعات + الدعم الفني + قطع الغيار + النقل الدولي + جميع المستندات + خدمة زيارة العملاء.
3. فحص المعدات + تنظيف المعدات + الهيكل وإصلاح الهيكل العلوي + إعادة طلاء المعدات (تحت الطلب) + الاختبار الكلي.
4. المنتجات المخصصة (اللون ، التغيير إلى المحرك الأيمن ، استبدال المحرك بانبعاثات أعلى وما إلى ذلك) والمنتجات المعاد تصنيعها.

## هذا منتج مُعاد تصنيعه (ZOOMLION مع هيكل Scania 10 * 4 ، 63m ، 2013 عام) ، تم استبدال الكثير من الأجزاء. نقوم بتسليم المعدات المستخدمة في حالة جيدة ، جميع الوظائف تعمل بشكل جيد جدا ##

يكتب عدد قليل من الشركات معلومات خاطئة عن المعدات المستخدمة على الموقع لزيادة الجاذبية ، على سبيل المثال: سنة الإنتاج ، الأميال ، ساعات العمل ، تزيين حالة المعدات.

الصدق هو أدنى متطلبات شركتنا وموظفينا.
نحن نعمل فقط مع العملاء الجادين والحقيقيين. الاتصال بنا للحصول على مزيد من التفاصيل.
Мы, ООО Гималаи Технология поставляем новые и бу бетононасосы всех марок, такие как SANY, ZOOMLION, Schwing и Putzmeister, высота от 37м до 70м в хорошем рабочем состоянии.

1. Профессиональный и честный стиль работы (никогда не обмануть, показать все исходные данные)
2. Продажи + Техническая поддержка + Запчасти + Международные перевозки + Все документы для растаможки + принимать клиентов в нашем городе.
3. Испытать оборудования + очистить оборудования + Ремонтировать шасси и надстройки + Переделать краску оборудования (под заказу) + полный тест.
4. Стандартные продукты (цвет, замена в правый руль, замена двигателя на более высокий уровень выбросов и т. Д.) ,и восстановленные продукты.

## Цена указана на условиях FCA Чанша, Китай. Свяжитесь с нами, чтобы мы рассчитали для вас фрахт. ##

## Это модернизированный продукт(Zoomlion c шасси Scania 10*4, 63m,2013г.), многие детали заменены. Поставляем бу оборудование в хорошем состоянии, всё функции работают хорошо ##

Несколько компании пишут фиктивную информацию бу оборудования в вебсайте чтобы увеличить привлекательность, например: год производства, пробег, рабочее время, украшать состояние машины. Мы знаем всё секрет бизнеса.

Честность, это самое низкое требование нашей компании и наших людей.
Мы работаем только с серьезными и реальными клиентами. Свяжитесь с нами, чтобы получить более подробную информацию.
Important
This offer is for guidance only. Please request more precise information from the seller.
Safety tips
Seller's contacts
Chen
Languages:
English, Russian, Chinese
Seller's local time: 14:30 (CST)
Selling machinery or vehicles?
You can do it with us!