New FABO STATIONARY TYPE 400-500 T/H HARDSTONE CRUSHING & SCREENING PLANT crushing plant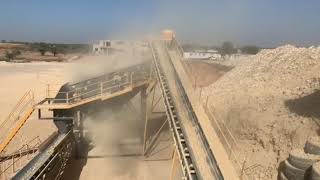 1/21
Model
STATIONARY TYPE 400-500 T/H HARDSTONE CRUSHING & SCREENING PLANT
Location
Germany
Need delivery?
Calculate the cost of delivery
*All of our products are made with care and covered for 1 year warranty!
*Installation and Operator Training FREE

FABO manufactures and installs stationary type stone crushing and screening plants according to customer requirements. Production capacity of our stationary plants differs from100 to 1000 ton per hour.

400-500 Tons/hour capacity of Crushing and Screening Plant:

-45 m3 Rock Feeding Bunker
-Vibrating Grizzly Feeder (bypass)
-CLK-140 Primary Jaw Crusher
-CC 300 Cone Crusher
-2000 x 6000 mm Vibrating Screen (4 decks)
-1000 mm, 800 mm, 650 mm width Conveyor Belt System
-Control Panel and Automation System
-Magnetic Magnet

FOR FURTHER INFORMATION PLEASE FEEL FREE TO CALL US!!!
* Tous nos produits sont faits avec soin et couverts pour 1 an de garantie!
* Formation d'installation et d'opérateur libre

FABO fabrique et installe des installations fixes de concassage et de criblage de la pierre selon les exigences du client. Capacité de Production de nos installations stationnaires varie de 100 à 1000 tonnes par heure.
Toute nouvelle usine de concassage et de criblage complète avec certificat de ce 1 an de garantie

CAPACİTÉ DE 400 - 500 TONNES/HEURE D'İNSTALLATİONS DE CONCASSAGE ET DE CRİBLAGE

-45 m3 Bunker d'alimentation de roche
-Alimentateur Vibrant Grizzly (bypass / contourner)
-CLK-110 Concasseur à mâchoires Primaire
-CC 300 Concasseur a cone
-2000 x 6000 mm Crible Vibrant
- 1000 mm, 800 mm, 650 mm Système de Convoyeur a bande
-Panneau de commande et système d'automatisation
-Aimant magnétique

POUR PLUS D'INFORMATIONS, N'HESITEZ PAS A NOUS CONTACTER!
• Все наши оборудования произведены с заботой и вниманием!
• Наши установки гарантируются компанией на 1 год!
• Установка и пользовательское обучение бесплатно!

ФАБО производит и устанавливает стационарные виды дробильно-сортировочных установок разного производительного объема в зависимости от требования покупателя. Производственная мощность наших стационарных установок меняется от 100 до 1000 тонн в час.

НОВОЕ ПОКОЛЕНИЕ ПОЛНОЙ ДРОБИЛЬНО-СОРТИРОВОЧНОЙ УСТАНОВКИ С «СЕ» СТАНДАРТНЫМ СЕРТИФИКАТОМ.

СТАЦИОНАРНАЯ ДРОБИЛЬНО-СОРТИРОВОЧНАЯ УСТАНОВКА МОЩНОСТЬЮ 400-500 ТОНН В ЧАС СОСТОИТ ИЗ:

45 м3 Вибрационный питательный бункер
CLK-140 Первичная Щековая дробилка
СС 300 Конусная дробилка
2000*6000мм Вибрационный Грохот (4 слойный)
1000 мм, 800 мм, 650 мм Ременные конвейеры
Панель управления и автоматизированная система
Магнитное приспособление

ДЛЯ ПОДРОБНОЙ ДЕТАЛИ СВЯЖИТЕСЬ С НАМИ!
Important
This offer is for guidance only. Please request more precise information from the seller.
Safety tips
Seller's contacts
Erdal Bozkurt
Languages:
English, Turkish
Utku Yılmaz
Languages:
English, French, Turkish
Besim Bekir
Languages: English, Turkish, Serbian, Macedonian, Albanian
Seller's local time: 13:52 (CEST)
Selling machinery or vehicles?
You can do it with us!