New SERMADEN FIXED RIVERSTONE CRUSHING crushing plant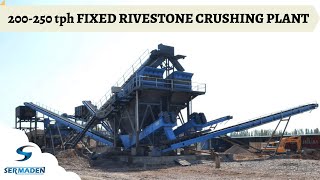 1/13
Model
FIXED RIVERSTONE CRUSHING
Location
Turkey
Ankara
! We provide installation work and operational training for all of our equipment!

Fixed Crushing-Screening & Sand Washing plant is another type of mining equipment solution that is targeted for hard stone types with sandy physical composition like Riverstone, where sand separates from the stone after the crushing process and neeeded to be washed away. After completion of crushing process, the product is sorted into necessary fractions and the smallest size product is sent to the helix/screw sand washer and after to the final stockpile conveyor belt. The process of washing that begins at the vibrating screen with the use of water pump tubes at each layer, continues at the sand washer, therefore sending both sandy water and sorted product to the helix washer. Depending of initial stone size, jaw crusher can be added at the primary stage. In our case, the stone is smaller than 400 mm, therefore we use secondary impact crusher and vertical shaft impact crusher.

Crushing-Screening Line consists of:

• Secondary Impact Crusher 1120 x 1500 mm
• Vertical Shaft Impact Crusher Ø 900 mm
• Inclined Vibrating Screen 2000 x 6000 mm (2 pcs)
• 600 x 6000 mm helix sand washer (2 pcs)
• Main, stockpile, feedback conveyor belts
• All intersystem electrical cables
• Control panel with control system

FEEL FREE TO CONTACT US FOR ANY ADDITIONAL INFORMATION!
--------- اتصل بنا ---------
الموقع الإلكتروني:
show contacts
الاتصال: 00903123850933 | 00905309648184(جوال)
البريد الإلكتروني:
show contacts
---------وصف---------
! نحن نقدم أعمال التركيب والتدريب التشغيلي لجميع أجهزتنا!
يعد نظام التكسير والغربلة الثابت وغسل الرمل نوعًا آخر من حلول معدات التعدين التي تستهدف أنواع الأحجار الصلبة ذات التكوين المادي الرملي مثل الحجر النهرية ، حيث ينفصل الرمل عن الحجر بعد عملية التكسير ويحتاج إلى غسله بشكل منفصل. بعد الانتهاء من عملية التكسير ، يتم فرز المنتج إلى كسور ضرورية ويتم إرسال المنتج الأصغر حجمًا إلى غسالة الرمال الحلزونية / اللولبية وبعد ذلك إلى حزام ناقل للمنتج النهائي. تستمر عملية الغسل التي تبدأ في الغربال الاهتزازي باستخدام أنابيب ضخ المياه في كل طبقة في غسالة الرمال ، وبالتالي يتم إرسال كل من الماء الرملي والمنتج المفرز إلى الغسالة الحلزونية. اعتمادا على حجم الاولي للحجارة، يمكن إضافة الكسارة الفكية في المرحلة الأولية. في حالتنا ، يكون الحجر أصغر من 400 مم ، لذلك نستخدم كسارة تصادمية ثانوية وكسارة تصادمية عمودية.
يتكون خط التكسير من:
• كسارة تصادمية ثانوية 1120 × 1500 مم
• كسارة بمحورعمودي بقطر 900 مم
• غربال اهتزازي مائل 2000 × 6000 مم (قطعتين)
• غسالة رمل 600 × 6000 مم (مزدوجة )
• أحزمة ناقلة رئيسية و ثانوية
• جميع الكابلات الكهربائية الداخلية
• لوحة تحكم بنظام تحكم الكتروني
للحصول على مزيد من المعلومات الرجاء التواصل معنا.
---------NOUS CONTACTER---------
SITE WEB :
show contacts
Contact :
show contacts
|
show contacts
(portable)
Courriel :
show contacts
---------LA DESCRIPTION---------
! Nous assurons les travaux d'installation et la formation opérationnelle de tous nos équipements !
L'usine fixe de concassage, de criblage et de lavage de sable est un autre type de solution d'équipement minier qui est ciblée pour les types de pierres dures avec une composition physique sableuse comme River stone, où le sable se sépare de la pierre après le processus de concassage et doit être emporté. Une fois le processus de concassage terminé, le produit est trié en fractions nécessaires et le produit de la plus petite taille est envoyé au laveur de sable à hélice/vis et ensuite à la bande transporteuse de stockage final. Le processus de lavage qui commence au tamis vibrant avec l'utilisation de tubes de pompe à eau à chaque couche, se poursuit au laveur de sable, envoyant ainsi à la fois de l'eau de sable et du produit trié vers le laveur hélicoïdal. Selon la taille initiale de la pierre, un concasseur à mâchoires peut être ajouté au stade primaire. Dans notre cas, la pierre est inférieure à 400 mm, nous utilisons donc un concasseur à percussion secondaire et un concasseur à percussion à arbre vertical.
La ligne de concassage-criblage se compose de :
• Concasseur à percussion secondaire 1120 x 1500 mm
• Concasseur à percussion à axe vertical Ø 900 mm
• Crible vibrant incliné 2000 x 6000 mm (2 pièces)
• Convoyeurs principaux, de stockage et de retour
• Tous les câbles électriques inter systèmes
• Panneau de commande avec système de contrôle
CONTACTEZ-NOUS POUR PLUS D'INFORMATIONS!
---------СВЯЖИТЕСЬ С НАМИ---------
САЙТ:
show contacts
Контактный номер:
show contacts
|
show contacts
(мобильный)
Эл-Почта:
show contacts
---------ОПИСАНИЕ---------
! Мы проводим монтажные работы и эксплуатационное обучение всех наших оборудований !
Стационарная Щековая и Вторичная-Третичная Роторная Дробильно-Сортировочная линия, предназначена для всех видов каменного продукта с твердым и износливым составом. Дробильно-Сортировочная линия состоящяя из первичной щековой, вторичной роторной и третичной роторной дробилки нацелена для получения полного готового агрегатного продукта используемого в бетоносмесительных заводах, с более 50-70% песочно-фракционного продукта.
Дробильно-сортировочная линия имеет:
• Первичная Щековая Дробилка SJ 03 -- 850 x 1100 мм
• Вторичная Роторная Дробилка SS 02 -- 1120 x 1250 мм
• Третичная Роторная Дробилка ST 03 – 1200 x 1000 мм
• Вибрационный Грохот для отсева отхода – 1200 x 4000 мм
• Наклонный Основной Вибрационный Грохот – 2260 x 6000 мм
• Кабина управления и пульт управления
• Все внутренние соединительные электрические кабеля.
СВЯЖИТЕСЬ С НАМИ ДЛЯ ДОПОЛНИТЕЛЬНОЙ ИНФОРМАЦИИ!
Important
This offer is for guidance only. Please request more precise information from the seller.
Safety tips
Seller's contacts
Shamuhammet Chariyev
Languages:
English, Turkish, Russian
Turkey, Central Anatolia, 06370, Ankara, Saraykent Industrial Zone, St 68, No 3 A-B, Kahramankazan district
Seller's local time: 16:25 (+03)
Selling machinery or vehicles?
You can do it with us!