New SERMADEN MOBILE JAW CRUSHING PLANT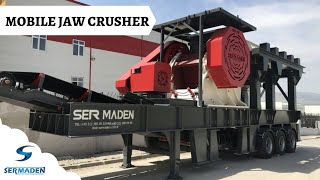 1/11
Model
MOBILE JAW CRUSHING PLANT
Location
Belgium
Les Bons Villers
Need delivery?
Calculate the cost of delivery
Installation & training included to the price.

SMJC series Mobile Jaw Crushing Plant is one of the most preferred types of equipment acquired in modern day stone quarry manufacture works. Primary Jaw Crusher on mobile construction is a time-efficient, high capacity primary stage crushing plant with large input size and enduring for all abrasive stone types. Nowadays, this equipment is mostly used for continuously changing mountain quarries and construction sites, where products are crushed and used directly at the extraction site.

Models of this mobile equipment type differs depending on input size of the stone and total capacity of the equipment:

SMJC 60 (10m3 bunker, 500x2500mm feeder, 380x610mm jaw) 60-80 tph
SMJC 90 (20m3 bunker, 950x3800mm feeder, 650x900mm jaw) 100-150 tph
SMJC 110 (30m3 bunker, 1100x4650mm feeder, 850x1100mm jaw) 200-300 tph

FEEL FREE TO CONTACT US FOR MORE INFORMATION!
تعد سلسلة MSJC من محطات الكسر الفكية المتنقلة واحدة من أكثر المعدات المفضلة التي يتم الاعتماد عليها في أعمال تصنيع المحاجر الحديثة. الكسارة الفكية الأساسية في البناء المتحرك هي محطة سحق للمرحلة الأولية و هي موفرة للوقت وعالية السعة حيث تسع جميع أحجام و أنواع الأحجار الكاشطة. في الوقت الحاضر ، يتم استخدام هذه المعدات في الغالب ضمن المحاجر الجبالية ومواقع البناء المتنقلة باستمرار ، حيث يتم سحق المنتجات واستخدامها مباشرة في موقع الاستخراج.

تختلف تصاميم المعدات المحمولة أو المتنقلة باختلاف حجم الادخال بالنسبة للحجارة بالايضافة الى السعة الاجمالية المعدات.

SMJC 60 قادوس التغدية 10 م ³ / مغدي 500 x2500 مم / كسارة فكية 380- 610 مم سعة 60– 80 طن/ساعة
SMJC 90 قادوس التغدية 20 م ³ / مغدي 509 x0380 مم / كسارة فكية 650- 900مم سعة 100– 150 طن/ساعة
SMJC 110 قادوس التغدية 30 م ³ / مغدي 1100 x0465 مم / كسارة فكية 850- 1100 مم سعة 200– 003 طن/ساعة

للحصول على مزيد من المعلومات الرجاء التواصل معنا.
Les prix d'installation et de formation sont inclus.

Le concasseur à mâchoires primaire sur construction mobile est une installation rapide de concassage à étage primaire de grande capacité, avec des grandes tailles d'entrée pour tous les types de pierres abrasives. De nos jours, cet équipement est principalement utilisé pour les carrières de montagne et les chantiers de construction en constante évolution, où les produits sont broyés et utilisés directement sur le site d'extraction.


Les modèles de ce type d'équipement mobile diffèrent en fonction de la taille d'entrée de la pierre et de la capacité totale de l'équipement :

SMJC 60 (Trémie 10m3, Alimentateur 500x2500mm, Mâchoire 380x610mm) 60-80 t/h
SMJC 90 (Trémie 20m3, Alimentateur 950x3800mm, Mâchoire 650x900mm) 100-150 t/h
SMJC 110 (Trémie 30m3, Alimentateur 1100x4650mm, Mâchoire 850x1100mm) 200-300 t/h

N'HÉSITEZ PAS À NOUS CONTACTER POUR AVOIR PLUS D'INFORMATION !
Установка и обучение оператора включены в цену.

Мобильная щековая дробильная установка является одним из наиболее предпочтительных видов мобильных установок на колесном шасси. Эта установка очень оптимальна, плодотворна и практична тем что, щековая дробилка будучи дробилкой первичной стадии, может принимать большие каменные куски при входе и давать продукт среднего размера для вторичного дробления. Принцип дробления щековой дробилки позволяет легкостью измельчать большие куски самых твердых и износных видов камней как гранит, базальт и кварцит, при этом обходиться минимальным износом броней.

Модели этого вида мобильной установки меняются в зависимости от размера питаемого камня и общей производительности установки на следующие:

SMJC 60 (10 м3 бункер, 500x2500 мм питатель, 380x610 мм дробилка) 60-80 т/ч
SMJC 90 (20 м3 бункер, 950x3800 мм питатель, 650x900 мм дробилка) 100-150 т/ч
SMJC 110 (30 м3 бункер, 1100x4650 мм питатель, 850x1100 мм дробилка) 200-300 т/ч

ДЛЯ ДОПОЛНИТЕЛЬНОЙ ИНФОРМАЦИИ СВЯЖИТЕСЬ С НАМИ!
Important
This offer is for guidance only. Please request more precise information from the seller.
Safety tips
Seller's contacts
Shamuhammet Chariyev
Languages:
English, Turkish, Russian
Belgium, Hainaut, 6211, Les Bons Villers, Rue du Mitan, 2
Seller's local time: 13:55 (CEST)
Selling machinery or vehicles?
You can do it with us!