RENAULT Manager G270 fire truck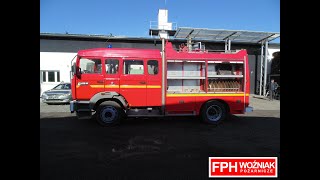 1/35
Location
Poland
Lubartów
Description
Overall dimensions
6.8 m × 2.4 m × 2.9 m
Need delivery?
Calculate the cost of delivery
1. TYP NADWOZIA
- kabina jednomodułowa,
- liczba miejsc siedzących: 8,
- przeszklenie w części osobowej,
- drzwi przedziału załogi umieszczone po obu stronach pojazdu – liczba 4,
- stopnie antypoślizgowe,
- przedział osobowy wyłożony tapicerką i podsufitką,
- oświetlenie wewnętrzne kabiny.

2. WYPOSAŻENIE
- wspomaganie kierownicy,
- liczba biegów: 6,
- oświetlenie ostrzegawcze punktowe, możliwość zainstalowania belki sygnalizacji świetlnej i
dźwiękowej
- lampa obrotowa sygnalizacyjna z tyłu auta,
- oświetlenie skrytek
- uchwyty na aparaty powietrzne – 4 szt.

3. ZABUDOWA POŻARNICZA
- oryginalna zabudowa pożarnicza firmy: CAMIVA,
- dach wykonany w formie podestu roboczego pokryty blachą aluminiową
przeciwpoślizgową,
- sanki do mocowania drabiny na dachu,
- żaluzje aluminiowe pyło- i wodoszczelne po dwie z każdej strony,
- uchwyty do mocowania drabiny
- układ wydechowy przeciwpożarowy (do góry).

4. UKŁAD WODNY
- pompa CAMIVA
- wydajność pompy 2400l/min,
- zbiornik wody o pojemności: 3000 litrów,
- zbiornik wykonany z aluminium,
- linia zalewania zbiornika przez autopompę,
- linia szybkiego natarci min. 40m,
- linia szybkiego natarcia zakończona prądownicą,
- wyjścia tłoczne zgodne z polską normą,
- tankowanie hydrantowe.

5. WYPOSAŻENIE DODATKOWE ZA DOPŁATĄ :
- wciągarka - ZMIENI DŁUGOŚĆ POJAZDU Z 6,80 NA 7,5
- sygnalizacja świetlno dźwiękowa z zestawem głośno-mówiącym,
- Przegrody na węże według potrzeb OSP
- wymiana złączy na Polskie
- rzutki pod koła


Przestrzeń sprzętowa wymiary:
Długość – 3,65 m;
Szerokość: 2,34 m
Wysokość: 1,58 m


Wnęka w przestrzeni sprzętowej:
Długość – 1,24 m
Szerokość: 0,63 m
Wysokość: 0,48 m
Wymiary samochodu:
Długość – 6,80m;
Długość z wyciągarką: 7,5 m.
Szerokość: 2,4 m
Wysokość: 2,9 m


Podana cena jest ceną netto

W naszej ofercie mamy również inne pojazdy z napędem 4x4.
Wykonujemy zabudowy na pojazdach powierzonych.
Sprowadzamy samochody na zamówienie.

SPRAWDŹ INNE NASZE OFERTY

JESTEŚMY GODNI ZAUFANIA
Important
This offer is for guidance only. Please request more precise information from the seller.
Safety tips
Seller's contacts
Poland, Lubelskie, 21-100 , Lubartów, Kopernika 38B
Seller's local time: 12:53 (CEST)
Selling machinery or vehicles?
You can do it with us!