Valla V110R Valid inspection, *Guarantee! Fully Electric mobile crane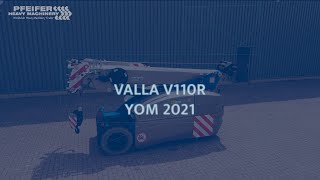 1/22
First registration
2021-01-01
Location
Netherlands
Groenlo
Seller stock ID
PHM-Id 80963
Need delivery?
Calculate the cost of delivery
General information
Type: All terrain crane
Field of application: Construction
Serial number: 9511

Drivetrain
Drive: Wheel

Functional
Lifting capacity: 11.000 kg

Other information
Front tyres / undercarriage remaining: 99
Rear tyres remaining : 99
Tyre brand: Solideal
Transport dimensions (LxWxH): 4.19x1.5x1.95

Additional information
Please contact Pfeifer Heavy Machinery Sales for more information
Typ: All-Terrain-Kran
Verwendungszweck: Bauwesen
Antrieb: Rad
Hubkapazität: 11.000 kg
Seriennummer: 9511
Zustand der Bereifung vorne: 99
Zustand der Bereifung hinten: 99
Transportabmessungen (L x B x H): 4.19x1.5x1.95
Wenden Sie sich an Pfeifer Heavy Machinery Sales, um weitere Informationen zu erhalten
Type: Terrængående kran
Anvendelsesområde: Konstruktion
Drivanordning: Hjul
Løftekapacitet: 11.000 kg
Serienummer: 9511
Kontakt Pfeifer Heavy Machinery Sales for yderligere oplysninger
Tipo: Grúa todoterreno
Ámbito de aplicación: Construcción
Propulsión: Rueda
Capacidad de elevación: 11.000 kg
Número de serie: 9511
Restante de neumáticos delanteros: 99
Restante de neumáticos traseros: 99
Dimensiones de transporte (LaxAnxAl): 4.19x1.5x1.95
Póngase en contacto con Pfeifer Heavy Machinery Sales para obtener más información
Modèle: Grue tout-terrain
Domaine d'application: Construction
Commande: Roue
Capacité de levage: 11.000 kg
Numéro de série: 9511
État neuf pneus avant: 99
État neuf pneus arrière: 99
Dimensions du volume de transport (L x l x H): 4.19x1.5x1.95
Veuillez contacter Pfeifer Heavy Machinery Sales pour plus d'informations
V110R Radio-remote mobile pick-and-carry crane

This crane has a valid inspection and can be sold with warranty. Inform about our conditions!

This crane is also available for rent!

Manufacturer: Valla
Typ: Explorer V110R
Fuel: Fully Electric
Year: 2021

Max payload: 11.000 kg
Total weight: 12.200 kg
Max lifting height: 10.4 m
Max Working Radius: 6.2 m
Capacity at Max Height: 4.000kg
Capacity at Max Radius 1.900kg
Dimensions: 4187x1500x1946 mm

Fully Remote Controlled
Hydr. Swing Away Movable Jib
Winch
Non-marking tires
Front-wheel drive
Electro-Hydraulic Brakes
Rear steering
Onboard charger and automatic refill
Removable counterweights

* CE (Declaration of Conformity).

More detailed pictures / product movie on our website.

pfeifermachinery.com

Above specifications are subject to change without prior notice and subject to errors

= Meer informatie =

Type: Weg-terreinkraan
Toepassingsgebied: Bouw
Aandrijving: Wiel
Hefcapaciteit: 11.000 kg
Serienummer: 9511
Resterend profiel voorbanden: 99
Resterend profiel achterbanden: 99
Afmetingen (LxBxH) (m): 4.19x1.5x1.95
Neem voor meer informatie contact op met Pfeifer Heavy Machinery Sales
Typ: Żuraw terenowy
Obszar zastosowania: Budownictwo
Napęd: Koło
Udźwig: 11.000 kg
Numer serii: 9511
Aby uzyskać więcej informacji, należy skontaktować się z Pfeifer Heavy Machinery Sales
Тип: Вездеходный кран
Область применения: Строительство
Привод: Колесо
Грузоподъемность подъемного устройства: 11.000 kg
Серийный номер: 9511
Свяжитесь с Pfeifer Heavy Machinery Sales для получения дополнительной информации
Important
This offer is for guidance only. Please request more precise information from the seller.
Safety tips
Seller's contacts
Johan Houben
Languages:
English, Polish, Dutch
Netherlands, Gelderland, 7141 JG, Groenlo, Den Sliem 49
Seller's local time: 17:34 (CEST)
Selling machinery or vehicles?
You can do it with us!