SCHMIDT Boschung S3 road sweeper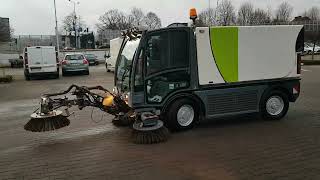 1/15
First registration
2015-01
Location
Poland
ŁAZISKA GÓRNE
Placed on
more than 1 month
Cabin
Cruise control (tempomat)
Need delivery?
Calculate the cost of delivery
Very neat and fully functional Micro Street Sweeper by the best German company Schimdt - BOSCHUNG in this field.
Independent 4-wheel drive, also runs on completely twisted wheels.
A new wheel of this type 60,000 € net - (receipt ONLY at the end of the year:}
DMC 5000KG
CAPACITY 1800 KG,
Curb weight 3200 kg
Fully operational and serviced.

Characteristics of the engine-transmission system: ecological standard: Euro 5,
fuel type: diesel,
engine capacity: 2,997 cc,
gearbox: automatic,

The chassis mechanism has: axle configuration: 4x4, number of axles: 2-axle, all-wheel drive, brakes: disc.
Cabin description: day ventilated, 2 seats,
Equipment: electrically adjustable mirrors, air conditioning,
cruise control,
hydraulic brake system,
MP3. + Radio,
3 Brushes.
Fire fighting equipment in the cabin,
Duplex
It has the CE mark and documentation.

Dear Customer!
If you want to buy a decent car, WELCOME TO US.
If YOU ONLY GUIDE YOURSELF BY THE PRICE, and parameters such as: ACTUAL COURSE OR ACCIDENTITY are SECONDARY VALUES for you, then in our humble opinion, a DAMAGE to your and our TIME.

Note to importers!
Car transport to the port of Hamburg / Bremenhaven costs approximately + € 400.
Transport to the port of Gdańsk / Gdynia cost about + 200 €
Velmi vychytaný a plně funkční Micro Street Sweeper od nejlepší německé firmy Schimdt - BOSCHUNG v tomto oboru.
Nezávislý pohon všech čtyř kol, jezdí také na zcela stočených kolech.
Nové kolo tohoto typu 60 000 € netto - (příjem POUZE na konci roku:}
DMC 5000 kg
KAPACITA 1800 KG,
Pohotovostní hmotnost 3200 kg
Plně funkční a servisovaný.

Charakteristika motor-převodový systém: ekologická norma: Euro 5,
druh paliva: nafta,
objem motoru: 2997 ccm,
převodovka: automatická,

Mechanismus podvozku má: uspořádání náprav: 4x4, počet náprav: 2 nápravy, pohon všech kol, brzdy: kotoučové.
Popis kabiny: denní odvětrávání, 2 místa,
Výbava: elektricky nastavitelná zrcátka, klimatizace,
tempomat,
hydraulický brzdový systém,
MP3 + rádio,
3 štětce.
Hasičské vybavení v kabině,
Duplex
Má značku CE a dokumentaci.

Vážený zákazníku!
Pokud si chcete koupit slušné auto, VÍTEJTE U NÁS.
Pokud se ŘÍDÍTE POUZE CENOU a parametry jako: SKUTEČNÝ PRŮBĚH NEBO NÁHODA jsou pro vás DRUHÉ HODNOTY, pak podle našeho skromného názoru ŠKODA vašeho i našeho ČASU.

Upozornění pro dovozce!
Doprava autem do přístavu Hamburk / Bremenhaven stojí přibližně + 400 €.
Doprava do přístavu Gdańsk / Gdynia stojí cca + 200 €
Sehr gepflegte und voll funktionsfähige Micro Kehrmaschine der besten deutschen Firma SCHIMDT - BOSCHUNG auf diesem Gebiet.
Unabhängiger Allradantrieb, läuft auch auf komplett verdrehten Rädern.
Ein neues Rad dieses Typs 60.000 € netto - (Quittung NUR am Jahresende:}
DMC5000KG
KAPAZITÄT 1800 KG,
Leergewicht 3200 kg
Voll funktionsfähig und gewartet.

Eigenschaften des Motor-Getriebe-Systems: Umweltstandard: Euro 5,
Kraftstoffart: Diesel,
Hubraum: 2.997 ccm,
Getriebe: Automatik,

Die Fahrwerksmechanik hat: Achsformel: 4x4, Achszahl: 2-achsig, Allradantrieb, Bremsen: Scheibe.
Kabinenbeschreibung: tagbelüftet, 2 Sitze,
Ausstattung: elektrisch verstellbare Spiegel, Klimaanlage,
Tempomat,
Hydraulisches Bremssystem,
MP3 + Radio,
3 Bürsten.
Feuerlöschausrüstung in der Kabine,
Duplex
Es hat das CE-Zeichen und die Dokumentation.

Lieber Kunde!
Wenn Sie ein anständiges Auto kaufen möchten, WILLKOMMEN BEI UNS.
Wenn SIE SICH NUR AM PREIS RICHTEN, und Parameter wie: TATSÄCHLICHER VERLAUF ODER UNFALL für Sie NEBENWERTE sind, dann ist das unserer bescheidenen Meinung nach ein SCHADEN an Ihrer und unserer ZEIT.

Hinweis für Importeure!
Autotransport zum Hafen Hamburg / Bremenhaven kostet ca. + 400 €.
Der Transport zum Hafen Danzig / Gdynia kostet ca. + 200 €
Micro Street Sweeper muy cuidada y totalmente funcional de la mejor empresa alemana Schimdt - BOSCHUNG en este campo.
Tracción independiente en las 4 ruedas, también funciona con ruedas completamente retorcidas.
Una rueda nueva de este tipo 60.000 € netos - (recibo SOLO al final del año:}
DMC 5000KG
CAPACIDAD 1800 KG,
Peso en vacío 3200 kg
Totalmente operativo y reparado.

Características del sistema motor-transmisión: norma ecológica: Euro 5,
tipo de combustible: diésel,
cilindrada: 2.997 cc,
caja de cambios: automática,

El mecanismo del chasis tiene: configuración de ejes: 4x4, número de ejes: 2 ejes, tracción total, frenos: disco.
Descripción de la cabina: día ventilada, 2 asientos,
Equipamiento: retrovisores regulables eléctricamente, aire acondicionado,
control de crucero,
sistema de freno hidráulico,
MP3 + Radio,
3 cepillos.
Equipo contra incendios en cabina,
Dúplex
Tiene el marcado CE y documentación.

¡Estimado cliente!
Si quieres comprar un auto decente, BIENVENIDO A NOSOTROS.
Si USTED SÓLO SE GUIA POR EL PRECIO, y parámetros como: RUMBO REAL O ACCIDENCIA son VALORES SECUNDARIOS para usted, entonces en nuestra humilde opinión, un DAÑO a su TIEMPO ya nuestro.

¡Nota para los importadores!
El transporte en coche hasta el puerto de Hamburgo/Bremenhaven cuesta aproximadamente +400€.
El transporte al puerto de Gdańsk / Gdynia cuesta alrededor de + 200 €
Micro balayeuse de rue très soignée et entièrement fonctionnelle de la meilleure société allemande Schimdt - BOSCHUNG dans ce domaine.
4 roues motrices indépendantes, fonctionne également sur des roues complètement torsadées.
Une roue neuve de ce type 60 000 € net - (facture UNIQUEMENT en fin d'année :}
DMC 5000KG
CAPACITÉ 1800 KG,
Poids à vide 3200 kg
Entièrement opérationnel et entretenu.

Caractéristiques du système moteur-transmission : norme écologique : Euro 5,
type de carburant : diesel,
cylindrée : 2 997 cm3,
boîte de vitesses : automatique,

Le mécanisme du châssis a : configuration des essieux : 4x4, nombre d'essieux : 2 essieux, transmission intégrale, freins : disque.
Descriptif cabine : journée ventilée, 2 places,
Equipement : rétroviseurs réglables électriquement, climatisation,
régulateur de vitesse,
système de freinage hydraulique,
MP3 + Radio,
3 brosses.
Matériel de lutte contre l'incendie dans la cabine,
Duplex
Il a le marquage CE et la documentation.

Cher client!
Si vous voulez acheter une voiture décente, BIENVENUE CHEZ NOUS.
Si VOUS VOUS GUIDEZ UNIQUEMENT PAR LE PRIX, et des paramètres tels que : PARCOURS RÉEL OU ACCIDENTITÉ sont des VALEURS SECONDAIRES pour vous, alors à notre humble avis, un DOMMAGE à votre et à notre TEMPS.

Avis aux importateurs !
Le transport en voiture jusqu'au port de Hambourg / Bremenhaven coûte environ + 400 €.
Le transport jusqu'au port de Gdańsk / Gdynia coûte environ + 200 €
Nagyon ügyes és teljesen működőképes Micro Street Sweeper a legjobb német Schimdt - BOSCHUNG cégtől ezen a területen.
Független 4 kerék hajtás, teljesen csavart kerekeken is fut.
Egy új ilyen típusú kerék nettó 60.000 € - (átvétel CSAK év végén:}
DMC 5000 kg
KAPACITÁS 1800 KG,
Saját tömeg 3200 kg
Teljesen működőképes és szervizelt.

A motor-hajtómű jellemzői: ökológiai szabvány: Euro 5,
üzemanyag típus: dízel,
motor űrtartalom: 2997 cc,
sebességváltó: automata,

Az alváz szerkezete: tengely konfiguráció: 4x4, tengelyek száma: 2 tengely, összkerékhajtás, fékek: tárcsa.
Fülke leírása: nappali szellőztetés, 2 ülés,
Felszereltség: elektromosan állítható tükrök, klíma,
tempomat,
hidraulikus fékrendszer,
MP3 + rádió,
3 kefe.
Tűzoltó felszerelés a kabinban,
Duplex
CE jelöléssel és dokumentációval rendelkezik.

Tisztelt Ügyfelünk!
Ha egy tisztességes autót szeretne vásárolni, ÜDVÖZÖLJÜK Nálunk.
Ha CSAK AZ ÁR ALKALMAZTA MAGÁT, és az olyan paraméterek, mint: VALÓS PÁLYÁZAT VAGY BALESET MÁSODLAGOS ÉRTÉKEK az Ön számára, akkor szerény véleményünk szerint KÁR az Ön és IDŐNEK.

Megjegyzés az importőröknek!
Autószállítás Hamburg / Bremenhaven kikötőjébe körülbelül + 400 €.
Szállítás Gdańsk / Gdynia kikötőjébe körülbelül + 200 €
Spazzatrice Micro Street molto ordinata e perfettamente funzionante della migliore azienda tedesca Schimdt - BOSCHUNG in questo campo.
4 ruote motrici indipendenti, gira anche su ruote completamente intrecciate.
Una nuova ruota di questo tipo 60.000 € netti - (scontrino SOLO a fine anno:}
DMC 5000 KG
CAPACITÀ 1800 KG,
Peso a vuoto 3200 kg
Completamente operativo e revisionato.

Caratteristiche del sistema motore-trasmissione: norma ecologica: Euro 5,
tipo di carburante: diesel,
cilindrata: 2.997 cc,
cambio: automatico,

Il meccanismo del telaio ha: configurazione degli assi: 4x4, numero di assi: 2 assi, trazione integrale, freni: a disco.
Descrizione cabina: ventilata diurna, 2 posti,
Dotazioni: specchietti regolabili elettricamente, aria condizionata,
regolazione automatica della velocità,
impianto frenante idraulico,
MP3 + Radio,
3 spazzole.
Equipaggiamento antincendio in cabina,
Duplex
Ha il marchio CE e la documentazione.

Caro cliente!
Se vuoi comprare un'auto decente, BENVENUTO DA NOI.
Se TI GUIDI SOLO DAL PREZZO, e parametri quali: CORSO ATTUALE O INCIDENTE sono per te VALORI SECONDARI, allora a nostro modesto parere un DANNO al tuo e al nostro TEMPO.

Nota per gli importatori!
Il trasporto in auto fino al porto di Amburgo/Bremenhaven costa circa + € 400.
Il trasporto al porto di Danzica / Gdynia costa circa + 200 €
Bardzo zadbana i w pełni sprawna Mikro zamiatarka Uliczna najlepszej w tej dziedzinie niemieckiej firmie Schimdt - BOSCHUNG .
Niezależny napęd na 4 koła , jeździ także na całkiem skręconych kołach.
Nowa taka koło 60000€ netto.- (odbiór DOPIERO pod koniec roku :}
DMC 5000KG
ŁADOWNOŚC 1800 KG,
Masa Własna 3200 kg
W pełni sprawne i serwisowane.

Charakterystyka układu silnik- transmisja: norma ekologiczna: Euro 5,
rodzaj paliwa: diesel,
pojemność silnika: 2997 cc,
skrzynia biegów: automatyczna,

Mechanizm podwozia posiada: konfiguracja osi: 4x4, liczba osi: 2-osiowy, napęd na wszystkie koła, hamulce: tarczowe.
Opis kabiny: dzienna wentylowana, 2 miejscowa ,
Wyposażenie :elektrycznie regulowane lusterka, klimatyzacja,
cruise control,
hydrauliczny układ hamulcowy,
MP3.+ Radio,
3 Szczotki.
Sprzęt przeciwpożarowy w kabinie,
Dupleks
Ma znak CE i Dokumentacje.

Szanowny Kliencie!
Jeśli pragniesz zakupić PORZĄDNE AUTO, TO ZAPRASZAMY DO NAS.
Jeśli TYLKO SUGERUJESZ SIĘ CENĄ, a takie parametry jak: RZECZYWISTY PRZEBIEG CZY BEZWYPADKOWOŚĆ to dla Ciebie WARTOŚCI DRUGORZĘDNE, to naszym skromnym zdaniem SZKODA Twojego i naszego CZASU.

Uwaga dla importerów !
Transport samochodu do portu w Hamburg/Bremenhaven koszt około + 400€ .
Transport do portu Gdańsk/Gdynia koszt około + 200€
Очень аккуратная и полнофункциональная подметальная машина Micro Street Sweeper от лучшей в этой области немецкой фирмы Schimdt - BOSCHUNG.
Независимый полный привод, также работает на полностью скрученных колесах.
Новое колесо этого типа 60 000 € нетто - (получение ТОЛЬКО в конце года:}
ДМС 5000 кг
ГРУЗОПОДЪЕМНОСТЬ 1800 КГ,
Снаряженная масса 3200 кг
Полностью рабочий и обслуженный.

Характеристики системы двигатель-трансмиссия: экологический стандарт: Евро 5,
вид топлива: дизель,
объем двигателя: 2997 куб.см,
коробка передач: автомат,

Механизм шасси имеет: колесная формула: 4х4, количество осей: 2-осная, полноприводная, тормоза: дисковые.
Описание кабины: дневная вентиляция, 2 места,
Комплектация: электрорегулировка зеркал, кондиционер,
круиз-контроль,
гидравлическая тормозная система,
MP3.+ Радио,
3 кисти.
Противопожарное оборудование в кабине,
Дуплекс
Имеет маркировку CE и документацию.

Уважаемый клиент!
Если вы хотите купить достойный автомобиль, ДОБРО ПОЖАЛОВАТЬ К НАМ.
Если ВЫ ОРИЕНТИРУЕТЕСЬ ТОЛЬКО НА ЦЕНУ, а такие параметры как: РЕАЛЬНЫЙ КУРС ИЛИ АВАРИЯ для Вас ВТОРИЧНЫЕ ЦЕННОСТИ, то по нашему скромному мнению, УЩЕРБ вашему и нашему ВРЕМЕНИ.

Примечание для импортеров!
Транспортировка автомобиля до порта Гамбург/Бременхафен стоит примерно + 400 евро.
Транспорт до порта Гданьск / Гдыня стоит около + 200 €
Important
This offer is for guidance only. Please request more precise information from the seller.
Safety tips
Seller's contacts
Mariusz Gruchel
właściciel
Languages:
English, Russian, Polish
Mateusz Dziugieł
Languages:
English, Polish
Marius Serban
Languages:
English, Turkish, Spanish, Romanian
Poland, Silesian, 43-170, ŁAZISKA GÓRNE, ul. HUTNICZA 6
Seller's local time: 17:59 (CEST)
Selling machinery or vehicles?
You can do it with us!