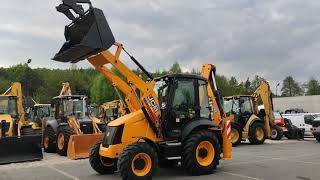 1/42
Location
Poland
Nowa Huta
Buy by leasing
Get an offer to buy a vehicle by leasing
Remote inspection
Request an independent technical inspection
Need delivery?
Calculate the cost of delivery
- Witam Mam DO SPRZEDANIA
Koparko ładowarkę
Szybko złącze Tył
Zakupiona i użytkowana od 2016r
Przepracowane 5800/mth
Używana na własne potrzeby
Przód na kołach 16/70-20R
Opony - przód
tył 80% do pracy
Skrzynia biegów Automat
Moc silnika 93 KM
Łyżka przednia otwierana
Łyżka pływająca
Samo poziomowanie łyżki
Ramię tylne teleskopowe
Szybko złącze łyżek przód/tył
Maszyna Mocna Szybka Sprawna ! ! !
SUPER ZADBANA GOTOWA DO PRACY ! ! !
W ofercie inne Koparko - Ładowarki ! ! !
Gwarancja LEGALNOŚCI ! ! !
MOŻLIWOŚĆ TRANSPORTU DO KLIENTA ! ! !
Link do filmu:
show contacts
WSZELKIE DODATKOWE INFORMACJE UZYSKACIE PAŃSTWO POD NR TELEFONU
show contacts
tel/ WhatsApp
show contacts
tel/ WhatsApp
Biuro -
show contacts
Biuro(małpa)duetduda.pl
Pełna oferta na : duetduda.pl
MOŻLIWOŚĆ SFINANSOWANIA POJAZDU
Za pomocą leasingu lub kredytu
Szybka decyzja leasingowa / kredytowa
Indywidualne podejście do każdego klienta !!!
Posiadamy autoryzacje w największych Firmach leasingowych
W związku z czym nie są wymagane wyceny rzeczoznawcy
A cały proces kredytu lub leasingu przebiega dużo szybciej
POJAZDY PRZEZ NAS OFEROWANE ZNAJDUJĄ SIĘ NA TERENIE NASZEJ FIRMY: DUETDUDA.PL
Zapraszamy i prosimy przed przybyciem o potwierdzenie aktualności oferty
Poniedziałek - Piątek w godz. 8.00 - 17.00
Sobota w godz. 8.00 - 15.00
Inne godziny oraz Niedziela po wcześniejszym umówieniu telefonicznym
Przedstawione dane maja charakter informacyjny
nie stanowią oferty w rozumieniu artykułu 66 k.c
Sprzedający nie odpowiada za ewentualne błędy lub nieaktualności ogłoszenia.
Dodatkowe informacje: napęd: kola
masa eksploatacyjna: 8
moc użytkowa: 93
Numer oferty: AKL63T22
fast-coupling
Faktura VAT
Pierwszy właściciel
Bezwypadkowy
Important
This offer is for guidance only. Please request more precise information from the seller.
Safety tips
Selling machinery or vehicles?
You can do it with us!